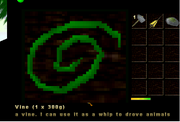 Vine



Damage

0 (+2 on non-flesh)

Weight

300

Combination

Is not craftable

Looted from

Combined to make

Actions
Vines are found on various trees and randomly generated on the ground. Vines do not do any damage to flesh, but can still be used as a technical weapon to shoo animals away. It is used mostly for building purposes but can also be a valuable medical resource.
you can also put a vine in your hand and whip the wildlife with it for whatever sick twisted reasons you may have.....
Ad blocker interference detected!
Wikia is a free-to-use site that makes money from advertising. We have a modified experience for viewers using ad blockers

Wikia is not accessible if you've made further modifications. Remove the custom ad blocker rule(s) and the page will load as expected.