Strong HealingHerb

Source

Jungle floor, Herbal Bed

Type

Brewing

Plantable

(No)

Edible

(Yes)

Harvestable

(Yes)
The
Strong HealingHerb
is
(uncommonly
) obtained in the wild, on the
Jungle floor
, or in an
Herbal Bed
(building).
Healing herb's can be made into Healing Potion's. (1x Stone + Water + 1x Strong Healingherb)
It can also be
eaten
without any crafting, but
only
restoring a
medium
amount of the players health.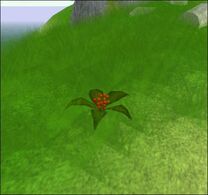 Ad blocker interference detected!
Wikia is a free-to-use site that makes money from advertising. We have a modified experience for viewers using ad blockers

Wikia is not accessible if you've made further modifications. Remove the custom ad blocker rule(s) and the page will load as expected.