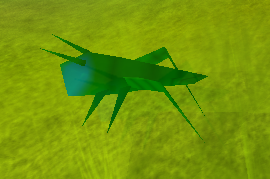 Grasshoppers are insects, that appear in swarms, and eat your grain. In order to kill theese bugger's, a wide-spread ammo is recommended.
Yield upon death; 3x Insect Part's.
Killing by Rocket Launcher with Poison Rockets is very effective.
To prevent Locust's from spawning, you must plant multiple fields of wheat consisting of 15 units each. Leave a generous amount of space between fields, so two or more fields next to each other will not be counted as one.
Characteristic's

Behaviour

Neutral

Height

Very small

Moovement Speed

Fast

Colour

Bright Green

Tameable

(No)
Ad blocker interference detected!
Wikia is a free-to-use site that makes money from advertising. We have a modified experience for viewers using ad blockers

Wikia is not accessible if you've made further modifications. Remove the custom ad blocker rule(s) and the page will load as expected.