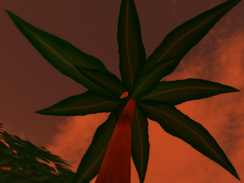 Bananas
are found growing upon banana
palms
. Up to three bananas may grow upon one
tree
.
When eaten they reduce hunger, thirst, and fatigue. (however fatigue is only slightly reduced)
In order to harvest bananas, you can either shoot them with any ranged weapon so they drop to the ground, have a stance built close enough to harvest from, or just jump and press the use [e] key.
They can be planted to grow banana palms.
You can use bananas to tame monkeys, and after a monkey school has been built, they can be used to train tamed monkeys to be Transport Monkey's. Edit
Banana's

Source

Banana Palm's

Type

Food, Taming

Plantable

(yes)

Harvestable

(yes)

Edible

(yes)

Planting skill

400
Ad blocker interference detected!
Wikia is a free-to-use site that makes money from advertising. We have a modified experience for viewers using ad blockers

Wikia is not accessible if you've made further modifications. Remove the custom ad blocker rule(s) and the page will load as expected.